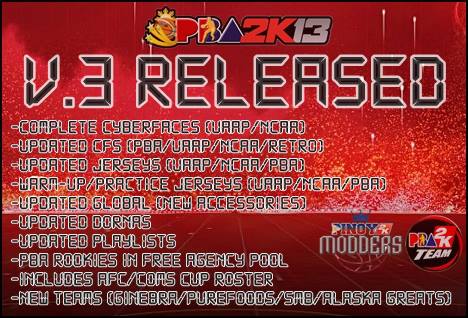 PBA 2K13 V1.3 Features
• Complete Cyberfaces For NCAA/UAAP
• Updated CFs (PBA/NCAA/UAAP/RETRO)
• Warm-Ups & Practice Jerseys for PBA/NCAA/UAAP Teams
• Updated Global with New Acessories
• Updated Dornas
• Updated Playlists
• PBA Rookies in FA Pool
• Includes All-Filipino Cup (AFC) & Commisioners Cup Roster
• New Teams Included! - (Ginebra/Purefoods/SMB/Alaska Greats)


IF YOU HAVE ALREADY THE PREVIOUS UPDATES, DOWNLOAD ONLY THE V1.3 INSTALLER. IF YOU DOWNLOAD THIS MOD FOR THE FIRST TIME, DOWNLOAD THE FULL PACK INSTALLER.
Download It Now !
Links:
Installer Version:
Full Pack INSTALLER (V1.0 - V1.3)
http://www.4shared.com/file/t_agOAgY/PBACHP_2K13_V10_-_V13.html
PBA 2k13 V1.3 INSTALLER
http://www.4shared.com/file/4WrelE8Q/pbachp_2k13_v13_1.html
By Parts Version
MEDIAFIRE:
PART1 -
http://www.mediafire.com/?89w9ijx8nwc092d
PART2 -
http://www.mediafire.com/?q7196qr3z6j94e7
4SHARED:
PART1 -
4shared.com /rar/b_KL7D1M/official_pba2k13_v3.html
**kapag nagkarron ng problema sa ulo ni DAWSON (meralco import)
--use this roster :
http://www.mediafire.com/download/er9326frsjcr4ih/PBACHP2K13_COMS_CUP.ROS